About Northside Catholic School
Beginnings
Created through merging the former St. Cyril of Alexandria and Cardinal Wright Elementary Schools, Northside Catholic School opened in 2011. 
Providing a choice for Catholic education in the Brighton Heights and surrounding neighborhoods, Northside Catholic offers children in pre-school through grade eight the opportunity to learn in a Christ-centered environment.  With an experienced faculty and staff, the school strives to create a safe and challenging learning place where children are invited to "Enter to learn, and leave to serve."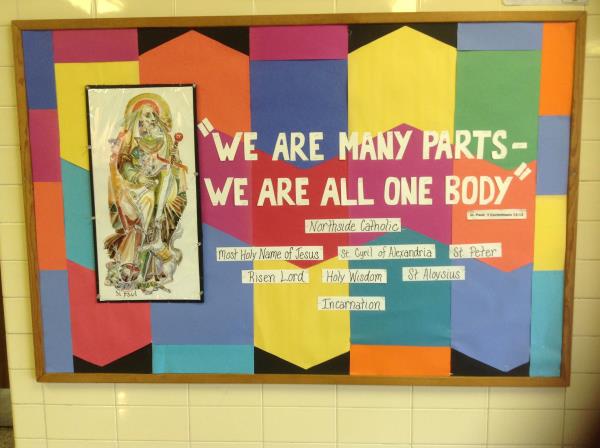 Cardinal Wright Regional School was formed in the spring of 1998 from the merging of St. Aloysious School in Reserve Township, Most Holy Name of Jesus School in Troy Hill, and St. Peter School in the Central Northside.  It opened its doors in August 1998 with a mission to educate the children of the Northside and surrounding communities in a Christ-centered environment. 

When St. Cyril's church mortgage was paid off in 1928, a zealous crew of fundraisers from the Parish focused efforts on a school.  Construction began in the spring of 1929, and on January 6, 1930, one hundred and two eager children began their Catholic education within its doors.  Educators from the Sisters of Mercy served as the first thirteen principals for Saint Cyril of Alexandria School.  After surviving the Depression, enrollment in the school continued to grow, and a new school was erected, under the leadership of Msgr. Daniel Gearing.  Classes moved, one by one, from the old school to the new, starting with first grade (September 23, 1966).  By November 17, 1966, the entire transition was accomplished, and by October of 1967, the second wing of the school was completed to include the library, health room, teachers' lounge, and offices.  This, the current school building, was dedicated on December 3, 1967.